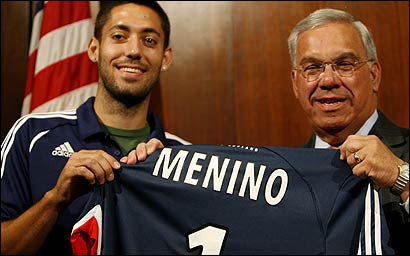 (Don't ask about the photo...it's the devil in me.)
PastMLSnet.com:
2006 Season Wrap
MLSnet.com:
Big Questions after '06
My Thoughts on the Revolution's '06
(Know my biases)
Present2006-07 Off-Season Changes
Soccer New England's
Ins & Outs
for roster changes (wait...those aren't just ball boys?)
New England Revolution's roster
from
MLSnet.com
And now,
the Future...


Key Men
Taylor Twellman - Before you assume it's just the goals, flash back to the 2006 playoffs. Recall Twellman bellowing in the face of a prone Ivan Guerrero, remember him drifting back to defensive midfield to protect the lead against DC United, and mourn the fact he finally scored a goal in a final only to have Ching's quirky goal cancel it seconds later. There's a reason Twellman is one of the faces, if not the face, of the Revolution. He does so much for this team.

Daniel Hernandez - Unlike Coach Steve Nicol, I was a fan of Jose "Pepe" Cancela. The biggest question facing this team is who provides the "cultured" passing Cancela could very well have supplied if he ever saw the field for the Revs. It helps immensely, not least with Nicol, that Hernandez is a solid, if injury-prone, two-way player. But there are times when the team struggles with coherence in the attack and Hernandez looks the likeliest candidate to provide that. Assuming he can, the Revs become a better team without question, because when they stall....(shudder).

Matt Reis - It feels like a bit of disservice to the three men who will line up in front of him, but Reis anchors that line and, therefore, gets the nod here. Frankly, watching Reis play scares the bejesus out of me; it looks like he's going to miss more than he stops, but there's the dang ball in his hands and not in the net, so I have to call the man a great 'keeper for this team. The Revs did manage the league's best defensive record last season, after all.

Andy Dorman - One of the most frequently asked questions of the 2006-07 off-season was what the Revs will do without Clint Dempsey. Dorman's 2006 answers that one. While Dempsey was away, he improved on his 2005 totals by tripling his goals tally and doubling his assists (stats here). Hard to say. He's already topped Dempsey for a one-year assists total (Dempsey maxed out at 9 in '05; see here), but, naturally, this isn't an apples-to-apples kind of thing: it was Dempsey's ability to unsettle defenses that provided value; I'm assuming Dorman will do things differently - e.g. pass the ball better. Still, this is an experiment worth watching.

Additional Assets
Great Front Office Support - HA HAA HA HA HA HA!!

Liabilities
Aging - The big issue here, key performers in a number of positions - Steve Ralston, certainly, but also Joe "Personal Leave" Franchino, Avery John, Daniel Hernandez - are on the wrong side of 30. Obviously, different players age differently, so it's not so much that these guys suddenly start sucking wind once they blow out 30 candles on the birthday cake, but there's no question that there's a transition coming; depending on the player (think Ralston) that could start this year.

Snake-bit - The chuck an NFL analogy into the discussion, do the Revs become the Buffalo Bills or the Denver Broncos? The former, of course, reached the cusp of success three times and haven't been heard from since (maybe...I haven't follow the NFL for shit since the 1980s/90s). I've got a bad feeling about how this team recovers mentally from a second consecutive let-down.

Cheap Front Office - While it's hard to substantiate charges by Shalrie Joseph about "disenchantment" on the Revolution roster, it wouldn't be all that surprising given their front office's apparent pride at consistently running this team under budget. There's something to be said for keeping a tight rein on personnel costs, but there's also something to being generous with your players when they take your tax write-off to the final two years running. While it's true they made Twellman happy - though only after several bitter months - the Joseph mess says something about the relationship between players and admin.

Unknowns
Draft Class - I had originally typed "(Insert New Guy Here)" in the "Key Men" section above. Good as the Revs' starting eleven is, I can't see this team having a successful season without several of the new guys (for the record: Arsene Oka, Wells Thompson, Miguel Gonzalez, Ryan Solle, Amaechi Igwe, Chris Loftus, or, the one garnering the best press and looking likeliest to start*, Adam Cristman) becoming solid, first-team contributors.

Injuries - Before the season has started, this team is coping with persistent injuries for Pat Noonan*, a freak injury for Michael Parkhurst, and niggling injuries to Hernandez. If the injury bug keeps biting at this rate, I'm guessing the Revs will face a dreaded "transition year."

Prospects - Using Gambling Analogies
I think the "snake-bit" liability will be telling. There's an air of desperation, exasperation - perhaps some other kind of "-ation" - surrounding this team, a wild-eyed vibe one might see in a gambler striking off to the pawn shop down the street from the casino. It's like they've got the wedding ring in hand and ready to hawk and they're hoping against memory that the stone is real diamond and not cubic zirconium. To me, the quality of that stone is Nicol's Superdraft savvy. If he guessed right - and he may have - the Revs remain a playoff team; I can't say a contender, but, in all truth, I stopped believing after 2005. But I can also see the Revs missing out this year.

The Nicol model relies on slow, steady growth and that may work. But there are also worrying signs that it's done as much as it could and bigger intervention is needed. I suspect his seat is getting warm this year; it will only take a bad start to get it up to hot.